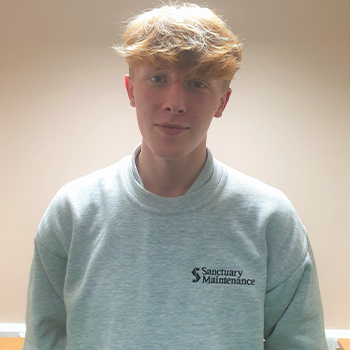 Tyler Derby
Plumbing (gas) apprentice
Tyler wanted to continue his education after leaving school and saw an apprenticeship as an ideal way of gaining skills and practical experience outside of a classroom environment.
He said: "The apprenticeship model appealed to me as a way to secure recognised qualifications coupled with live work experience, while earning a wage at the same time.
"Searching the internet for apprenticeship opportunities, I found Sanctuary as a large, local community employer.
"The website has a dedicated section for apprentices that made it easy for me to see how Sanctuary invests in young people and that it is fully behind developing employees to reach their full potential."
Based in Chester, Tyler's apprenticeship sees him accompanying experienced colleagues on callouts, learning the skills of the trade while helping tenants with any issues they report.
He said: "I like the diversity of my work and training, every day is different and I feel like I am progressing day-in, day-out with new skills.
"Each day is rewarding, but a real highlight has been helping resolve an issue with an elderly tenant's heating during a particularly cold week and seeing how much it meant to her. I really enjoy meeting our tenants and knowing that I'm helping to make a difference."
Tyler says his apprenticeship is giving him the best possible start to his career, and that he would recommend Sanctuary's apprenticeship programme to anyone.
He said: "I think an apprenticeship with Sanctuary was the best opportunity I could possibly have gone for. I'm gaining valuable experience that will better equip me for the future and I feel that I will advance more than if I had chosen a standard college course.
"I feel well-supported, looked after and challenged to grow my skills and knowledge and I know that I can always talk to my mentors whenever I need.
"I'm confident that after completing my apprenticeship I will be in a great position to gain full-time employment and I'm very interested in exploring options to develop further in the gas trade with Sanctuary."