26th April, 2022
Sanctuary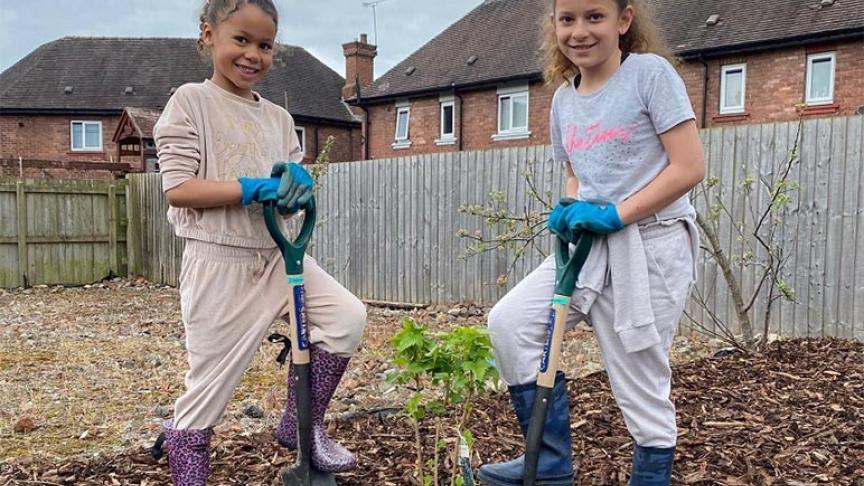 Families in Lache came together to enjoy an allotment open day and help to 'Plant a Tree for the Jubilee'.
About 40 residents attended the event at Lache Growing Space, taking part in a range of family-friendly activities and helping to plant fruit tree saplings donated by the Woodland Trust.
Lache Growing Space is one of four community allotment sites that Sanctuary runs in Chester, offering residents the chance to grow their own fruit and veg.
Residents and Sanctuary staff have planted more than 90 saplings to date, with another 30 still to go.
Once grown, the trees will form part of a new orchard area at the growing space, with hedgerows and a wildflower area already planted to attract insects and wildlife and increase biodiversity.
The open day took place during the school Easter holidays and was organised by Sanctuary and community group the Friends of Lache. Visitors also enjoyed crafts, an Easter egg hunt, refreshments and 'bug hotel' making with staff from Chester Zoo.
Libbie Stock, Sanctuary's youth coordinator, said: "We're very fortunate to have the growing space at the heart of our community in Lache and it was great to see so many people enjoying themselves and showing a real enthusiasm for sustainability and being outdoors.
"We're all looking forward to watching the trees grow and enjoying the new orchard area for many years to come."
The trees have been planted as part of the Queen's Green Canopy initiative, which is encouraging individuals, groups and organisations all over the country to plant trees and create a lasting, sustainable legacy to mark the Queen's Platinum Jubilee.