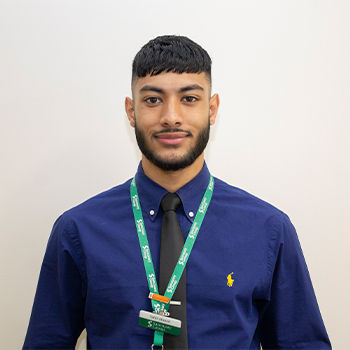 Sahil Ahmed
Health and safety administrator
Sahil says hearing success stories from other apprentices inspired him to apply for an opportunity of his own with Sanctuary.
After finishing his A-Levels, Sahil wanted to continue his studies but was keen to start earning a wage and take the first steps in his career.
He said: "I wanted to get into a working environment as soon as possible and decided against going to university as I thought I would have a better career opportunity starting as an apprentice.
"The idea of earning a qualification in business and administration while getting paid at the same time appealed to me. I had heard lots of positive stories from former apprentices about Sanctuary's programme and they inspired me to apply."
Sahil's apprenticeship saw him working with the Health and Safety team, supporting staff with incident reporting, responding to enquiries, compiling statistics for reports and assisting wherever else he was needed.
After completing his apprenticeship, Sahil has now secured a full-time role with Sanctuary as a health and safety administrator.
He said: "I enjoyed my apprenticeship and my colleagues, manager and mentor were all very supportive in helping me develop and ensuring I reached my goals.
"It really gave me the opportunity to build my confidence working with different groups of people, from senior managers to other apprentices at the same level as me."
Sahil says taking part in a residential week where he got to know his fellow apprentices and take part in activities such as caving and canoeing was one of the highlights of his apprenticeship.
He is also proud to be a member of the West Midlands Young Apprentice Ambassador Network and has enjoyed attending various events and career fairs across the region, helping to promote Sanctuary's apprenticeship programme and encourage others to consider an apprenticeship.
Sahil is confident that his apprenticeship gave him the best possible start to his career.
"I think Sanctuary's apprenticeship programme is very good and there are lots of opportunities to progress," he said.
"I would definitely recommend an apprenticeship to others. You get vocational training while experiencing the world of work at the first possible opportunity, which gives you a great head start in your chosen career."