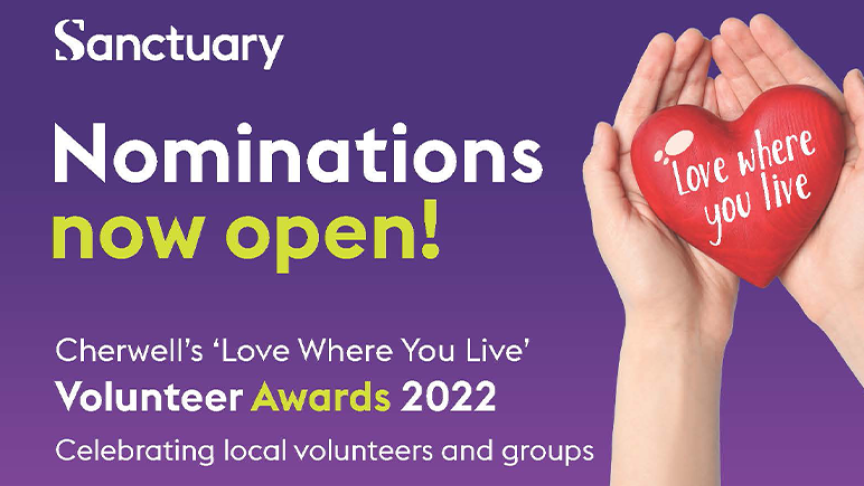 Nominations are now open for this year's Cherwell 'Love Where You Live' Volunteer Awards, which celebrate the hard work of volunteers and groups from Cherwell.
Organisers Sanctuary and Cherwell District Council are asking local people to nominate volunteers, neighbours, groups, and organisations that make a real difference in the community.
Entries are welcomed in six categories:
Volunteer of the Year;
Young Volunteer (under 18);
Voluntary Organisation of the Year;
Lifetime Volunteer;
Good Neighbour; and
Community Venue of the Year
Winners will be announced at an awards ceremony in September.
Good Neighbour award winners will each receive a £30 Love2Shop voucher and all other category winners will be offered £100 to donate to a local community group of their choice.
Charlie Heritage, Sanctuary's neighbourhood partnerships manager, said: "The Cherwell Volunteer Awards are back for the fourth time, and each year we discover more selfless people who go above and beyond to help others and make a positive difference in our community.
"Each year, we look forward to receiving your nominations and giving the people who go the extra mile the recognition they deserve."
Cllr Phil Chapman, Cherwell District Council's portfolio holder for healthy communities, said: "Volunteering brings people closer together, supports local services, and makes Cherwell a better place to live.
"We are really keen to make sure that the selfless people and groups who make all the difference get the thanks and recognition they deserve as part of the 'Love Where You Live' awards. If someone you know deserves an award, don't hesitate to nominate them."
To make a nomination, visit the Cherwell 'Love Where You Live' Volunteer Awards webpage.
Nominations close at 5pm on Monday 20 June 2022. For updates, follow #CherwellAwards on Twitter.
This project is part-funded by Sanctuary's Community Investment Fund, supporting projects which benefit Sanctuary residents and their communities.