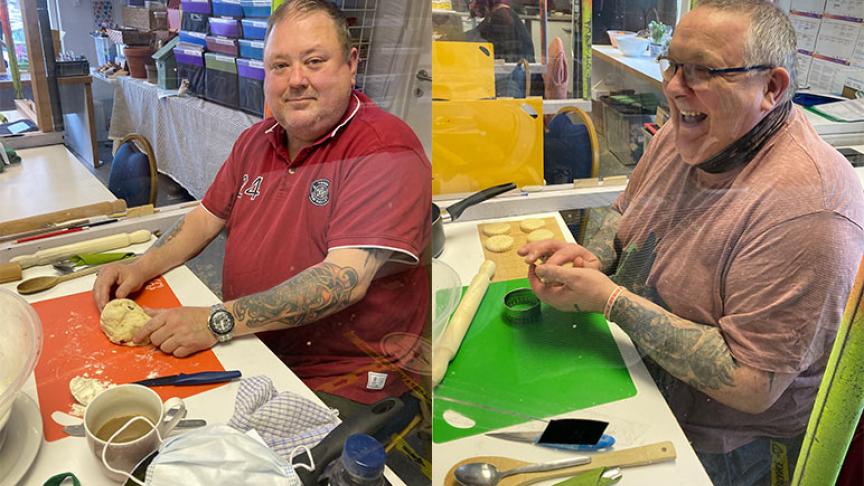 Members of a mental health charity in Banbury are combatting loneliness and celebrating the completion of a confidence-boosting cookery course.
With funding from Sanctuary, mental health charity Restore led the classes for more than 40 residents, to help people - including some who find it difficult to socialise - meet others and learn the basics of cooking.  
To mark Mental Health Awareness Week 2022, which has a theme of loneliness, Restore hosted a celebratory lunch where members showcased their culinary delights to the community.  
Homemade macaroni cheese and non-alcoholic brandy snaps were dished out as the members celebrated the ways they had worked so well together as a team.
During the meal, the group spoke of their sense of pride and satisfaction after making pizza and scones from scratch for the first time and taking them home to their families.
Course participant, Jim, said: "Attending on a Monday sets me up for the week.
"I knew how to cook, but it's the little things, like the safety bits, that I will take home and teach my children. I ask the kids what they want for tea, and I can get the ingredients and we all cook together when they get home.
"The skills I've been learning here, and the help from Restore, have made me a better father."
The classes covered batch cooking, portion control, timings, safety and food storage, as well as tips for shopping on a budget and reducing waste.
Charlie Heritage, Sanctuary's neighbourhood partnerships manager, said: "With the cost of living rising, it has been important to highlight ways to save money and energy through cooking to make meals go further.
"It was wonderful to see the progress and connections made by the members at Restore during this cooking course. Loneliness affects so many people, so I'm really pleased we could support."
Jacqui Vincent-Potter, Restore's recovery coordinator, added: "Restore is a safe space offering structured support to aid people on their mental health journey to recovery.
"I'm really proud of our members, and they're very proud of their new skills. I've noticed the positivity is glowing – with smiles on some people like I've never seen before."