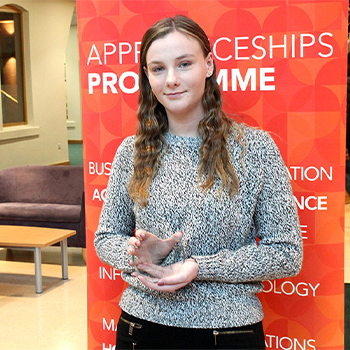 Abi Bradley
Community investment admin assistant
As she neared the end of her time at high school, Abi knew she wanted to continue her studies but was also keen to start gaining experience in a real working environment.
After hearing about apprenticeships at a careers event, she started looking for more information online and successfully applied for a business and administration apprenticeship with Sanctuary.
She said: "I didn't really know what I wanted to do as a career, but I loved studying business at school.
"I wanted to start gaining work experience but still get a qualification and an apprenticeship with Sanctuary seemed a great opportunity to do both."
Abi's apprenticeship saw her work in the community investment team, which manages investment in community-led projects and activities across the country to help create thriving neighbourhoods and address the needs of local residents.
After completing her apprenticeship, Abi has now secured a full-time role with the team as a community investment admin assistant.
She said: "I enjoy the variety in my role, no two days are the same and there is always something different to do.
"I'm responsible for creating feedback forms, sending out contracts, processing payments and making sure evaluation reports are submitted on time so that we can monitor the impacts our projects are making for local people and communities.
"I enjoy being able to get out and visit our projects and one of the highlights of my apprenticeship so far has been the opportunity to manage my own project."
Abi is keen to increase awareness of apprenticeships and has taken part in many events promoting the benefits of the programme to others, both within Sanctuary and externally.
One of her proudest moments during her apprenticeship was helping to deliver a presentation to colleagues, including senior directors, about the community investment team and its work.
She said: "I'd delivered presentations before but never on this scale. At school I wasn't so comfortable putting my hand up or putting my ideas forward, but since joining Sanctuary I've become much more confident and enjoy speaking to people about my role and explaining what apprenticeships are all about."
Abi also made a significant contribution outside of her job role – setting up a lunchtime support group for apprentices to get to know each other and leading a committee to identify potential fundraising ideas to support Sanctuary's charity of the year.
That dedication to her apprenticeship was recognised when she won the prestigious Level Two Apprentice of the Year award at the 2019 Worcestershire Group Training Association (WGTA) Apprenticeship Awards.
Abi said: "I really enjoyed my apprenticeship at Sanctuary and would recommend the programme to anyone. I gained confidence and experience and met some really lovely, supportive people.
"Apprenticeships are the best of both worlds. You get hands-on business experience, skills and qualifications and are earning money at the same time instead of getting into debt."